Blueprint for Tomorrow: Top 5 Construction Trends of the Future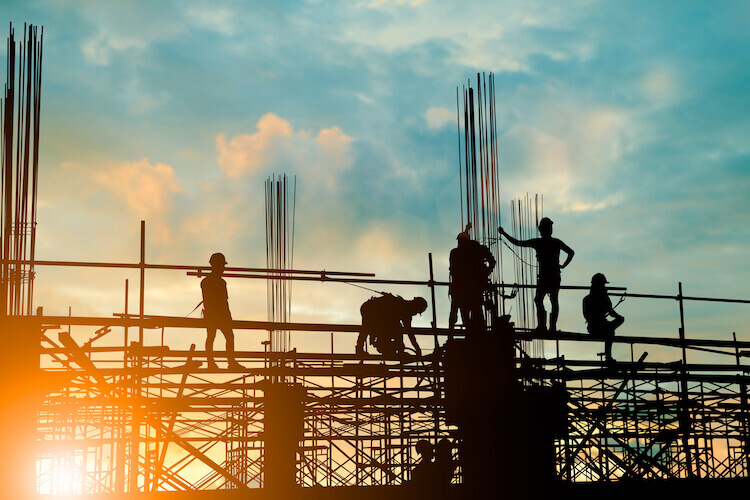 When you work in an industry as competitive as the construction industry, it's important to stay on top of current trends to be the best in the business. 
Technology is improving, safety regulations are changing and labor and material costs are fluctuating.
Recent years have seen a boom of new technologies that have been changing how we think about worker productivity and safety.
They also create opportunities for off-site and modular construction, and may play a role in addressing the ongoing labor shortage in the industry.
Additionally, more intense weather patterns and related natural disasters have led to increased demands for resiliency and sustainability, and often changes in policy and regulation go hand in hand with this.
From resiliency to labor shortages, this list of the top five construction trends in 2018 will help you stay ahead of the competition.
1. Focus on Resiliency & Sustainability
Mother Nature is increasingly making her strength known across the world. The National Oceanic and Atmospheric Administration (NOAA) reports that 2017 was a historic year for climate disasters, from flooding to wildfires to hurricanes.
In that one year, the United States alone was hit by 16 "billion-dollar disasters", each a separate event causing over $1 billion in damage.
As a result, new construction projects are being developed with a focus on resiliency toward natural disasters. Developers are shifting their designs on construction resiliency as a type of insurance or way to minimize risk.
Additionally, cities and regulators may tighten requirements on new construction. Because more environmentally-friendly construction has less of an impact on climate change, this type of construction decreases the likelihood of extreme weather events.
The US Green Building Council has officially adopted the RELi standard, which awards points to buildings based on categories tied to resiliency and sustainability.
2. Changes in Policy
The new tax plan that passed last year can be expected to impact the construction industry in the following ways:
Increased investment in public projects
Increased federal spending on infrastructure, as this could create new work to bring the nation's roads, bridges, and buildings closer to current standards for resiliency against natural disasters
So far, the Trump administration has only fulfilled approximately 1% of the $1.5 trillion that is laid in its infrastructure plan. However, if the spending goes as proposed, there could be many new opportunities for work in the industry.
There are also some changes that may affect how revenue and expenses related to new construction projects are to be reported. This is relevant if your yearly revenue is over $10 million, or if you've been taking advantage of the Domestic Production Activities Deduction.
3. New Technologies Take Center Stage
Augmented and virtual reality, drones, 3-D printing, automation, and more: new technologies are changing the way construction projects are being planned and executed.
Virtual reality (VR) is being used more and more to allow clients to experience a new construction project before it's been built, creating opportunities for increased investment in new construction.
VR is also being used for safety training of construction workers, something that could become more important as some states and cities are requiring more training for workers.
Augmented reality (AR) is a new technology that overlays digital images or information onto a real-time video of a real-world construction project.
This technology is being used to increase the accuracy of measurements, minimize the chance for error, and provide details to workers about materials, components, and tools.
Drones loaded with cameras and other sensors are being used more in more in construction, for purposes including:
Surveying sites
Tracking progress
Safety inspections
3-D mapping
Site security
Transportation of parts and tools
Analysts expect the global drone market to increase five-fold in the next decade.
Automation and robotics are two other technology trends that continue to gain traction in 2018. These technologies are being used to complete repetitive tasks, decreasing labor costs and improving worker safety.
4. Off-Site & Modular Construction Still on the Rise
Modular construction is building something off-site, then moving it to the project location.
The advantages of modular construction include a controlled and reliably consistent environment (no weather delays, increased safety), which can speed up overall construction time to as much as 65 times faster than traditional on-site methods.
As much as 80% of a project can be completed off-site.
Marriott announced last year that it would start increasing utilization of modular construction, with 50 new hotels planning to be built with pre-fabricated guest rooms and bathrooms.
Robotics and 3-D printing are making off-site prefab even more accessible.
5. Labor Shortages Aren't Going Anywhere
In 2017, there were 200,000 unfilled construction jobs. And this shortage isn't going away anytime soon.
The Associated General Contractors of America reports that 80% of businesses in the construction industry are struggling to find enough qualified labor.
The construction industry is short on skilled "craft" workers, a problem that is likely to continue as new projects rely more and more on advanced technology — and technology-adept workers.
The world is always changing, and the construction industry and workplace change with it. Success depends on staying up to date with new trends and opportunities.
Learn about the 10 industries that are currently using overhead cranes to get the job done >